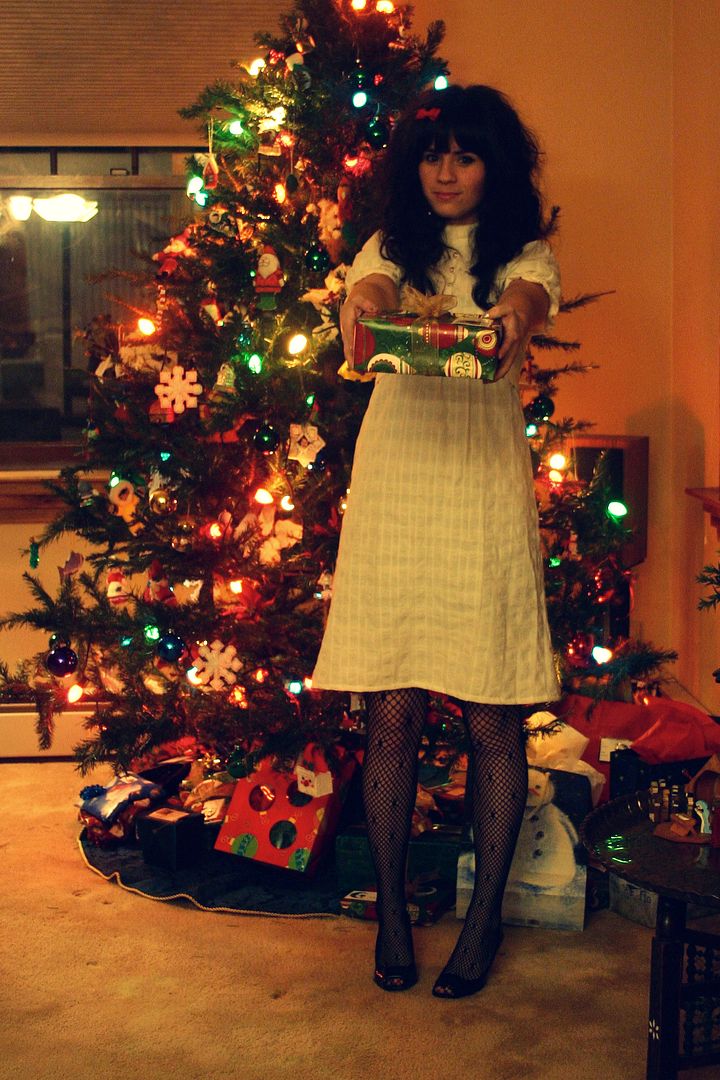 I can't believe Christmas is next week! It just snuck up on me! I need to wrap all my presents. I think I still need to get more presents too, which means I have to go out and brave the masses of Christmas shoppers. This frightens me. If I had the money I would buy so many presents. I love getting people gifts.
Know what I love about this time of year? Delicious packages from Harry & David. Mmmmm, pears and cheese and yummy things! Oh, also, peppermint ice cream. I'm not a huge fan of peppermint, but I love peppermint ice cream.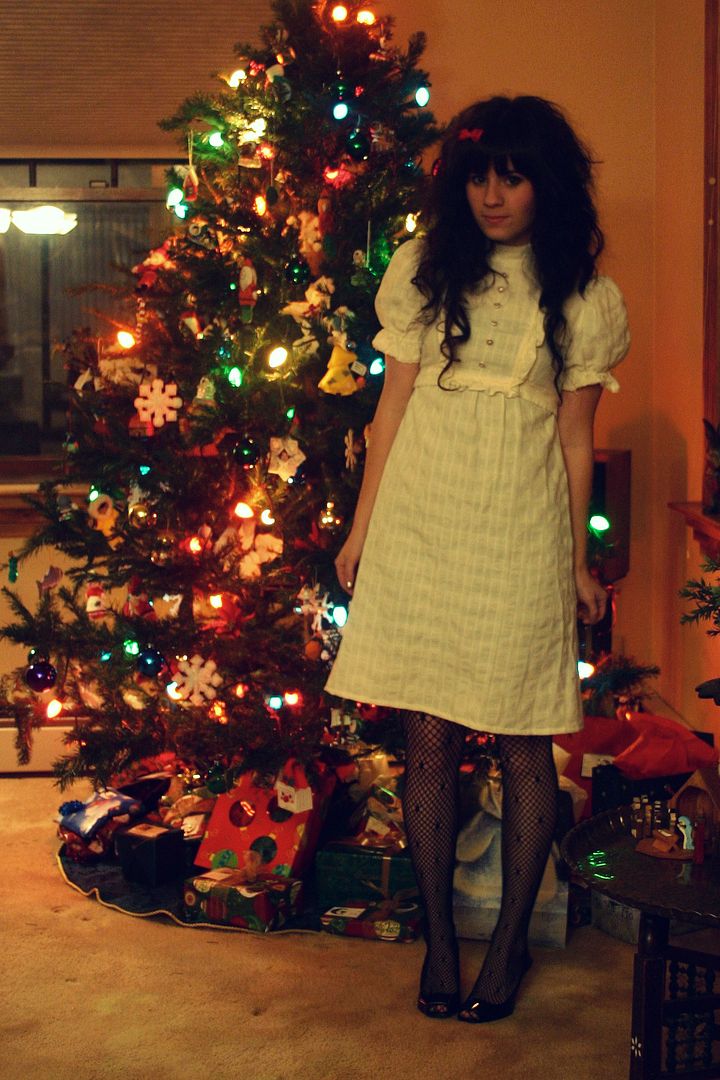 dress/vintage(ebay) :: tights/lulu e. bebe :: shoes/BCBGirls
I went to a work Christmas party last night. It ended up being really fun, despite my reluctance to go. I was out till 3:30 am. I'm too old for that kind of thing. Haha. I don't think my body was made for any sort of partying scene. I can't fathom people who party every night and then get up and go to work or school. I've never been black out drunk, or even sick drunk, but even so, waking up after a night of drinking is so unpleasant, especially if you have to get up and be productive. I've never even had a serious hangover with pounding headache and nausea, but the weird haze that your brain is in the next morning still bugs me. But I digress.
Did you guys notice anything different in these photos? Besides the fact that this is my first inside photo this winter. If you haven't guessed yet, I'll give you a hint:
I cut my hair! I kind of just got annoyed by the mat of hair that was always laying on my back. So I didn't cut off anything in the front, but I took the back all the way up to my neck.
I wanted to do a sort of A-Line cut, but much longer than the
Victoria Beckham version
. I cut off... maybe a foot? I really should have measured. I think I cut more after I took that picture of my sink. My hair hasn't been this short in years. I think I need to cut a little more too. It's hard to cut your own hair in the very back, though.
Have anyone seen the MTV show Styl'd? I just started watching it online. The styling part is interesting, but as always, the drama is dumb. But it's MTV. Drama is unavoidable. I'm totally bummed that all my favorite shows are off the air until January!! And then I'm going back to living a TV-less life! Thank God for the internet and online episodes.
Oh yeah, I keep forgetting to mention stuff like this, but I was interviewed by Fashion Jinx and they've now posted the feature! I also was mentioned over at Blue is in Fashion This Year in a little collage of snowy pictures.