I decided to have wavy hair today, so I straightened my hair last night. I feel so weird with straightened hair. I don't like looking in the mirror because I don't feel like myself and I don't know how to style straight hair. I kind of don't feel like myself because I'm so floofy and feminine looking today (my computer is telling my that floofy is not a word). I got this skirt because I loved it on Slanelle, but I've had a really hard time working it into my wardrobe. I dress a lot more femininely than I used to, but I still prefer tomboy to princess by a long shot, no contest.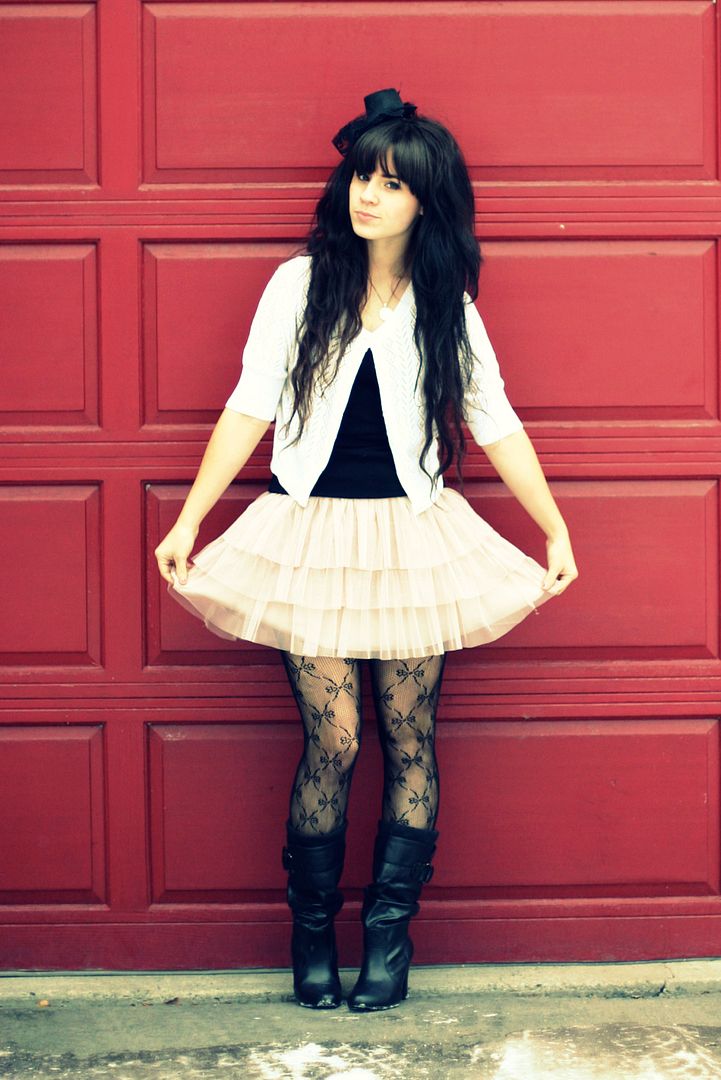 skirt/target :: tank top/F21 :: cardigan/hand me down :: tights/wet seal
boots/lulu e. bebe :: fascinator/handmade
So far I don't have much of a Christmas wishlist. I have been so busy working and trying to figure out what to get for other people that I haven't thought much about what I'd like to receive. Right now I feel like I can't have enough floral lace tights, and my other two picks were inspired by Erin of
Calivintage
and Tieka of
Selective Potential
.
Tights:
UO
,
Tabio
::
Shoes:
Ralph Lauren
(though these are probably impossible to find in my size...)
But my Christmas shopping has been going well! I LOVE the internet. I mean, I don't have to shove through rude people at big stores or anything! And I don't have to go out in the cold and deal with horrible drivers (and I'm ashamed to say, many people here in Anchorage are AWFUL drivers. I encounter at least one idiot per drive and I'm more concerned about some stupid driver running into me than spinning out on ice). I'm enjoying browsing through etsy for all my presents as well. There are some really fun things on there! I have received two of my purchases so far and I am stoked on them!
How are you guys doing your Christmas shopping?