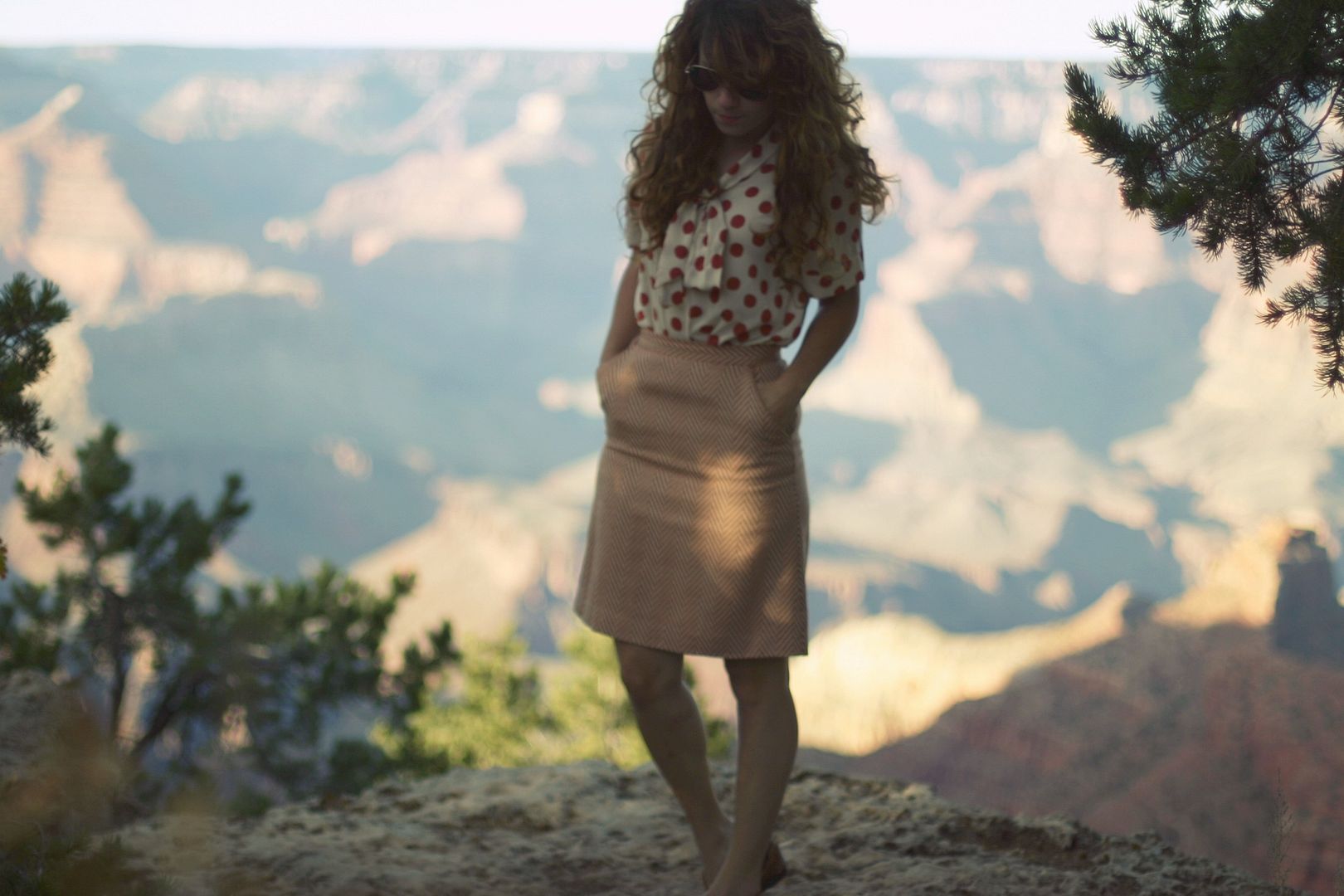 I have a bunch of touristy-scenic photos from the Grand Canyon, but since I've been blogging a lot of Travel lately, I thought I'd interject with an outfit.
This outfit was actually kind of inspired by the Grand Canyon itself. I've worn this outfit before, the day I got it in fact, but it reminded me of the Grand Canyon's layers of rock and sediment. You know how people draw diagrams of different layers of rock and they use dots, dashes, vertical and diagonal lines, etc. to differentiate the different types of rock (
like so
)? That's what my polka dot top and herringbone skirt reminded me of. So perhaps my top represents Coconino Sandstone, and my skirt is Redwall Limestone.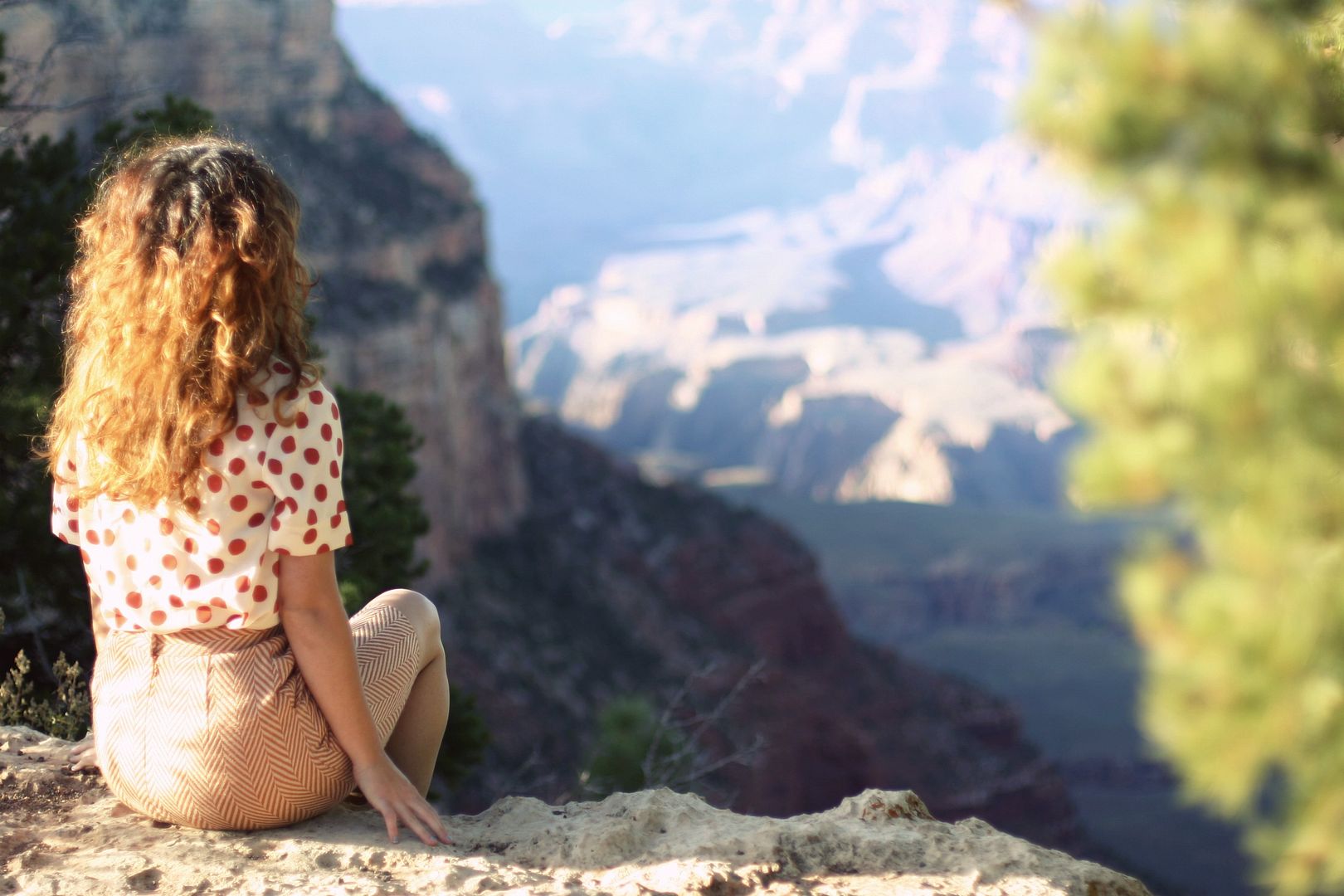 top & skirt/tucker for target :: shoes/thrifted
This outfit is a result of my trip to Target with my Aunt in Alameda. We both gasped when we saw these pieces nestled in amongst other sale items. The skirt was the only one left and is about a size too small for me- but damn, I'm gonna squeeze my ass into if it's the last thing I do! If I wear it often enough it'll become a diet plan of it's own-- it's certainly not an outfit to wear for Thanksgiving, haha! I wasn't incredibly impressed with the rest of the Tucker for Target pieces, though I didn't see a whole lot and wasn't aware of the collection until I stumbled across it on the sale rack. The pieces made out of the polka dot and herringbone fabrics were my favorite and had a very Mad Men, Peggy Olsen/Joan Holloway feel to them. The bow on the blouse always makes me think of
Tom and Lorenzo's
Mad Style
posts on Peggy (if you're a fan of Mad Men, you simply must read their episode recap and style posts). They always mention the little limp bows that she continually wears. The skirt hugs my hips so tightly and is cinched in at my waist so much that it reminds me of something Joan would wear. I guess this outfit is a Peggy/Joan hybrid, eh?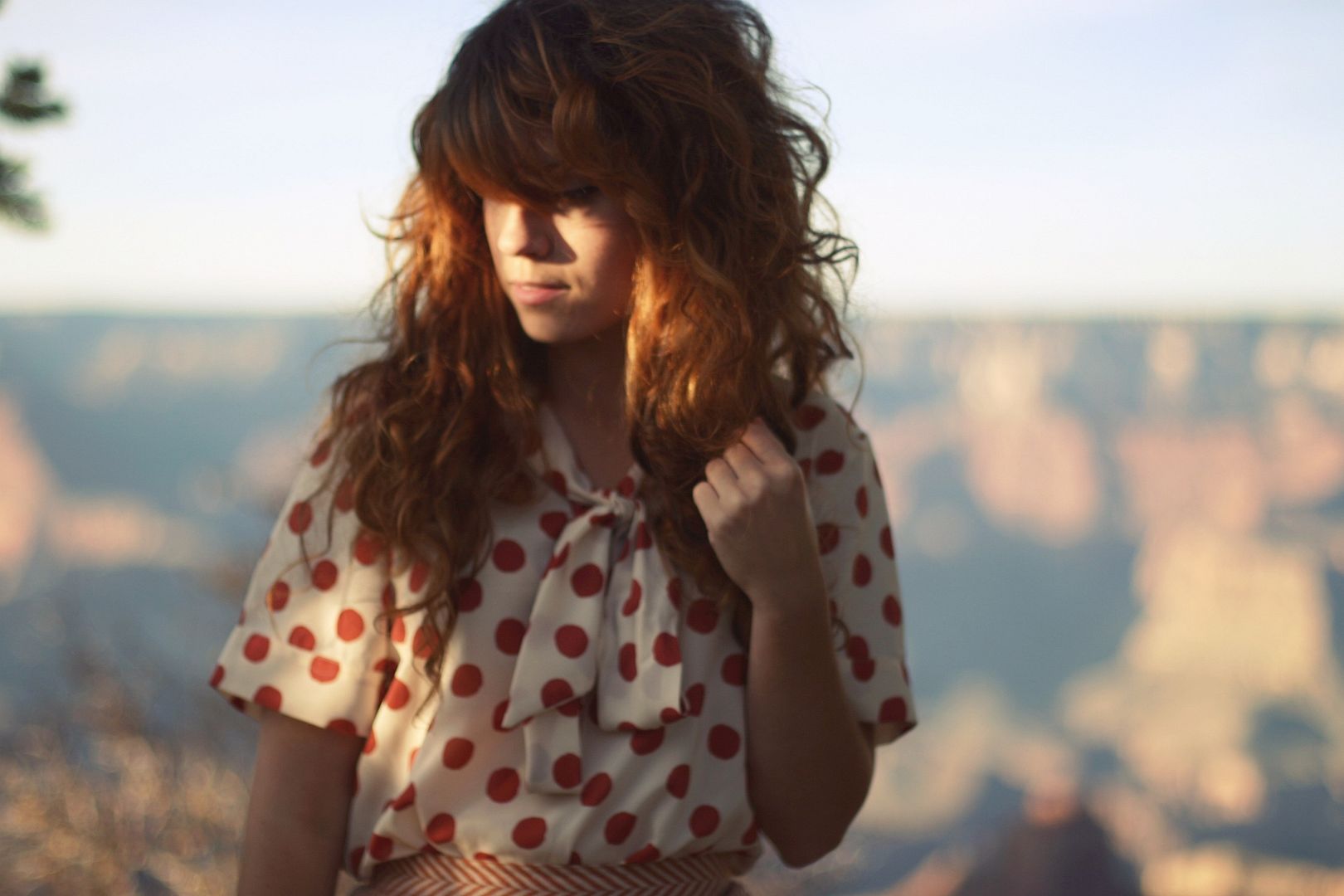 I found an amazing vista at a semi-secluded spot and was all set to take some sunset pictures when this kind of annoying couple decided that they too wanted to be at the exact same place I was. I awkwardly took a couple of self-timer/tripod shots and then just gave up. They were giggling, whispering and snickering and it was really obnoxious. So much for enjoying the majestic scenery in silence. Granted, I'm sure the park was much more vacant than in its peak season, which made it nice to visit without the throngs of people suffocating the various scenic spots along the rim. My campground was pretty much completely empty, save my little Brave, on the second night I stayed there. Such a strange feeling to be the only one camping in a huge campground!