I spent pretty much all of my day yesterday at Beyond the Bridge and ran into a few friends (which is my favorite part of hanging out at the BBC), one of whom happened to be
Jesse Pestana
, who is a photography nerd like myself. I asked him if he would do the honors of taking a couple outfit pix and he obliged (what a guy). I think we might get together in the future and do some fun photo shoots for ye olde blogge. Having someone else take my outfit photos is very odd. I'm so used to my trusty tripod and self timer!
I'm trying to fit in some time to do a little bit of blog work so I can revamp my about page and give newer readers a good background to this ol' blog, so yesterday I made a little
intro page
and soon I'll be updating my "about" page so it's more accurate. After blogging for almost 3 years (this June! I can't believe it's been that long!), it just makes sense to kind of give people a starting point without having to read back through all 3 years (over 800 posts! Whoa!)... unless you're up for the challenge! So hopefully the "
start here
" page is useful for you guys, especially newer readers. I'm also brainstorming a new mini e-course so hopefully in the coming weeks I can get that together!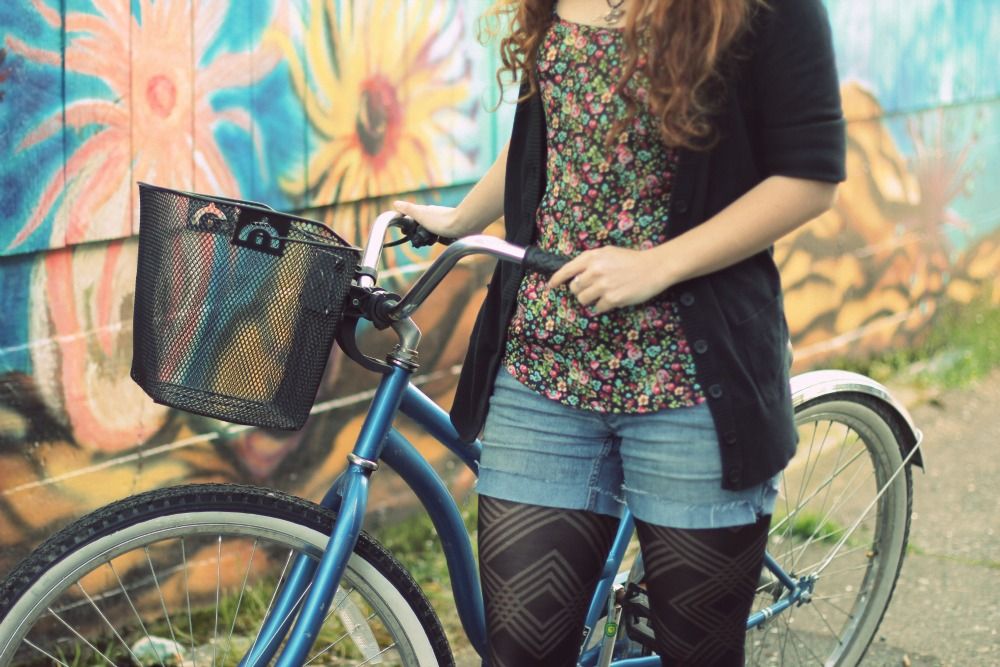 The other day I discovered that I could fold down these boots to reveal the cute floral interior and I'm pretty sure I'm never wearing them any other way ever again. And I couldn't resist the urge to pair them with my floral top which matches them almost perfectly. Since we're on the subject of these lovely boots, the Java giveaway ended last night and I have a winner! The lady who gets a free pair of these boots is...
I think that was the most entries for a giveaway that I've ever had! You guys must be huge fans of these boots, and it's totally understandable cuz I'm a huge fan too!
I carried a ton of stuff to the cafe today so I decided to pull out my poor, neglected cruiser and use its handy-dandy basket. It's totally bizarre to ride a heavy cruiser with huge tires after riding nothing but road bikes for the past 3 months. It's kind of nice to just mosey around on that big, slow thing. I seriously couldn't tell if I had flat tires or if they were just supposed to be that squishy. They're pretty much 3X as big as my other tires and only take 40 psi, as opposed to the 90psi in my road bikes' tires. I'm gonna keep it a short-distance rider, though... it's mega-inefficient.