Has summer arrived in Tacoma??? This week the forecast is for all sun and warmth! I've been fooled by the forecast before, though, so I'm skeptical, but I did get a little baby sunburn yesterday. I love that first sunburn of the year. The one you get on accident because you're so not even used to
seeing
the sun, much less a sun with the power to give you a sunburn. My sunburn is so dorky too. I was wearing a v-neck and a cardigan, so the tops of my hands and a V on my chest are sunburned, hah! Oh well. I'm glad the sun has showed up because it's bike month and I'm trying to ride my bike to work as much as possible. Unfortunately last week it was super rainy, but I think maybe I'll be able to ride every day this week, assuming I'm not totally lazy.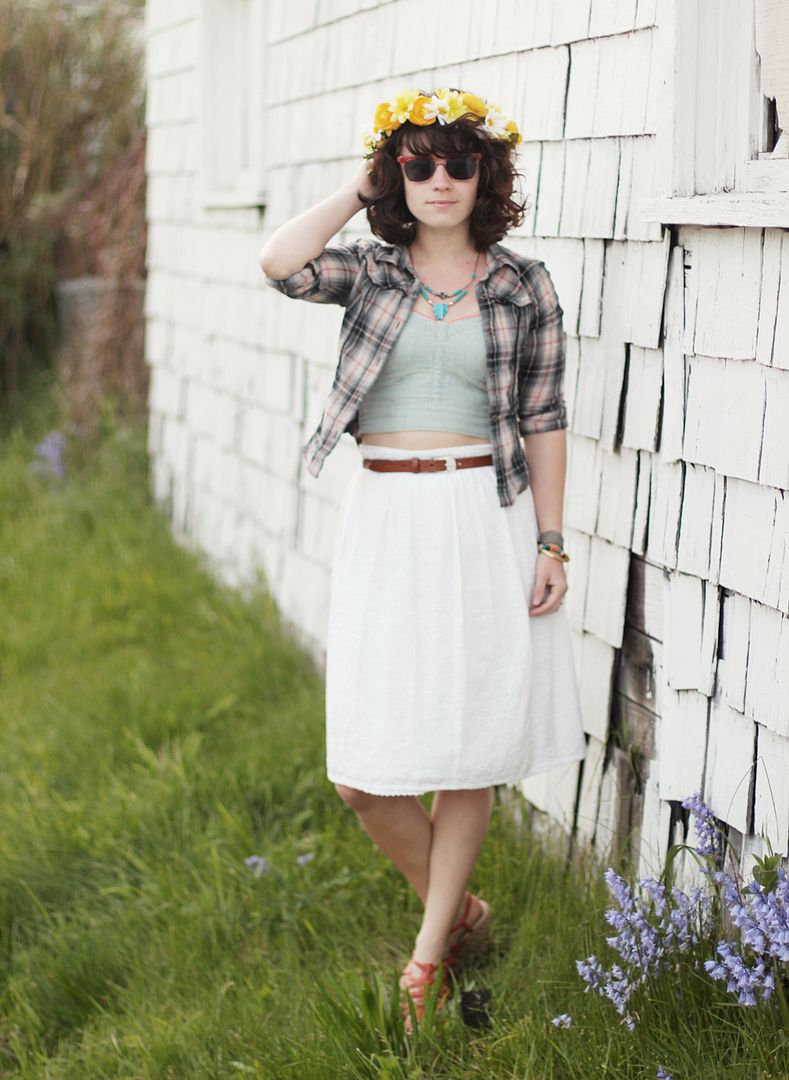 I saw Jen wear this crop top at TxSC and as soon as I got home I got online and bought it. I can't even think of the last time I bought something from American Eagle, maybe high school? I've kind of boycotted those Abercrombie/Hollister/AE type stores ever since I was a teenager. Mostly because I can't stand the trashy things they print on their graphic tees (also I'm confused about how putting half naked people in your catalogues is a way to sell
clothes
...), but also, I'm pretty certain Abercrombie is trying to suffocate me with disgusting cologne every time I walk by their store. But anyway. Jen was just so adorable in the
outfit she wore at TxSC
I knew I had to have that crop top. I really want to find a full, longer skirt like hers to go with my crop top. I only have shorter skirts, and I've realized that I rarely even wear separates any more, interestingly enough. I really wanted to wear a longer skirt with this top though, so I jerry-rigged a skirt out of an old dress by folding the bodice down and belting it. I keep meaning to check the skirts at thrift shops, but I always forget!