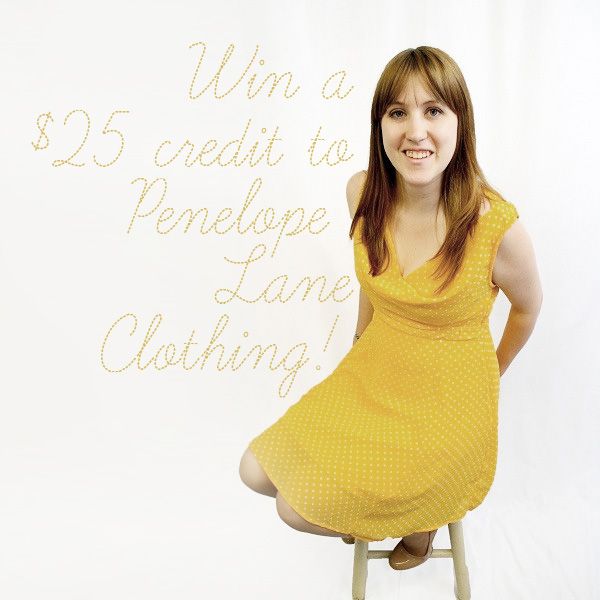 Hello everyone! Today I'm giving away a $25 shop credit to a brand new shop called Penelope Lane! One of the things I love about having a blog is being able to support independent shops and all you creative, entrepreneurial, amazing ladies out there. Holly's shop, Penelope Lane Clothing, just launched in April and she's giving away a $25 credit to her shop to kick things off!
The idea for Penelope Lane Clothing came about after I had my son and needed a new wardrobe. We as women go through transitions in life whether it be the transition from a pre-baby to post-baby body; or perhaps gained/lost some weight; or maybe its just time to change some things up. The thing is, buying a new wardrobe is expensive. Like many women when I needed a new wardrobe, I didn't have the money to spend on myself. I just had my first child. Naturally most of my funds were put towards his needs. I ended up browsing a certain website I loved wishing I could afford to spend just a few hundred dollars. It was so expensive that I never really bought anything. The more I thought about it, the more I felt empowered to open my own store. I decided that I wanted to create a place for women to buy clothes at a decent price without sacrificing quality or, most importantly, personality.
To Enter:
Head over to
Penelope Lane Clothing
and pick out your favorite thing in the shop, then come back here and
leave a comment on this post
letting me know what your favorite piece is!
For bonus entries, head to the
Penelope Lane facebook page
and give them a "like" and/or follow
Penelope Lane on twitter
. If you choose to do either/both of those bonus options, make sure you
come back and leave a comment for each additional entry
, otherwise your bonus entries won't be counted! The giveaway will be open for entries until Saturday, June 30th at 9pm PST. Open to international entries.
If you want to buy something from Penelope Lane, make sure to use the code "TACKY" to get $10 off a purchase of $40 or more!