On my trip down the west coast, I had a reader suggest a winery to visit as
I drove through Sonoma
. So, I made my way to
Benziger Family Winery
and ended up going on an amazing winery tour! They took us through the vineyard, down into the cellars, and showed us the huge vats of wine as the grapes were being pressed and such. It was really fascinating learning all the history behind wine and all the intricacies that go into crafting a wine. At the end of the tour we all got to have a little taste of some of their wines, which was a great marketing strategy, because I bought two bottles of their
Oonapais Sonoma Mountain Red
after the tour. I've been saving them for special occasions and Dan & I drank the first bottle after getting married. I'm not sure what the special occasion will be to drink the second bottle! Benziger says that the wine will improve until 2015, so maybe I'll keep it until then!
We actually just went wine tasting on a whim with my parents in Sequim a couple weeks ago when they were in town. It's quite fun and interesting to taste different kinds of wine one after another. Usually I'll just drink one bottle at a time so I never have the opportunity to compare the wine with anything else except my poor memory of other wines I've had. I'd love to go on more wine tasting excursions and get a better taste for it!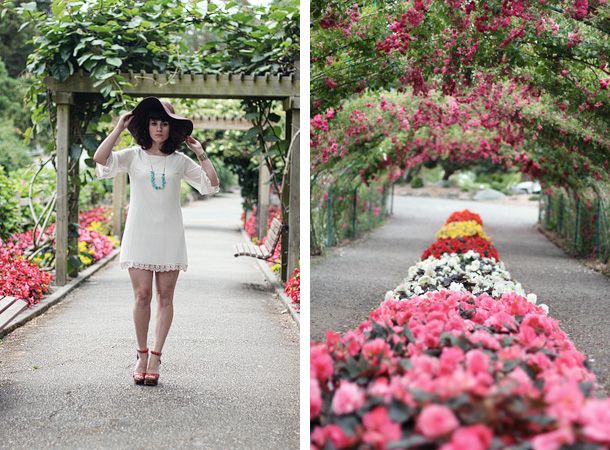 I don't have a favorite wine spot in Tacoma (yet), but the gardens at Point Defiance reminded me of the rows of grapes and the beautiful landscaping at Benziger. I've been to Point Defiance many times, but never actually went into the flower gardens. I've always just looked on from afar as people did their bride & groom photo shoots among the flowers. During the summer I bet there's a bride & groom photo session in these gardens almost every day! I actually thought about having our wedding at the Point Defiance Lodge, but it was a bit too small and more expensive than the venue we ended up going with. Point Defiance is a nice place for a picnic or a little outdoor party, though. One of our friends had their son's first birthday at Point Defiance, and we had a little cookout for memorial day last year down at Owen Beach. It's so nice to have a beautiful, natural tract of land right near the city. It's easy to forget that Tacoma is so close when you're deep in the woods of Point Defiance!