In high school all I wore were jeans. Mostly low-rise flare and bootcut jeans because it was the early 2000's and, well, that's what you wore. My "uniform" was jeans, skater shoes, and little boy's t-shirts. When I began exploring my style I ended up swinging to the opposite end of the spectrum and dressed very "girly" for a few years. You almost never saw me in pants. Now I feel like I'm settling in somewhere between my high school style and my super-girly style. Since getting a big more in shape, too, I feel more comfortable in pants. I have rather short legs, and I'm short to begin with, so I never look like those NYC street style photos of tall model-like girls wearing skinny jeans. I think for a long time it frustrated me to not look like I envisioned an outfit looking, because I saw the same outfit on one of those tall, slender off-duty-models and my body is not ever going to be that. But I think something about feeling more fit made me feel like I looked better in jeans, even though I don't think my body's actual shape changed too much. This pear shape girl will always be a pear shaped girl, no matter what weight I'm at. But anyway, I digress. Styling jeans. First step: don't expect to look like girls who don't have your body shape. Get over that. Stop being disappointed that you don't have a thigh gap, or that your ass is as flat as a pancake, or that your hips are "weird."
HIGH WAISTED BLUE JEANS
Lets start with just blue jeans. They're pretty standard. I walk into any store or restaurant and I bet 90% of people are wearing blue jeans. I like a darker wash jean, just because it feels a bit less casual. It seems easier to wear dark jeans in a stylish way. I like to pair jeans with fun heels and a fun top. Jeans will almost always be a neutral aspect of your outfit, so doing something more exciting with the other elements of your outfit is a good way to raise the level of your outfit a few notches. Pick a bold print, or bright color. Or do both!
I love high waisted jeans because I feel like they give me more options for styling. I can either style them as high waisted by pairing a crop top
LOW RISE BLUE JEANS
The three outfits above all are with more low rise jeans. I'm not a huge fan of low rise anymore, but low-rise is still a very popular cut. For low rise jeans I don't tuck in my top as much, like I do with high waisted jeans, but you can take a longer top and just tuck the front bit in. The jeans in the very top photo of this post are more mid-rise and you can see I tucked one flap of my button down shirt in. But if you have a longer tee or blouse, instead of tucking the shirt all the way around, just tuck in a little bit to reveal your belt buckle!
I've never been a fan of the dress-with-pants fad, but for some reason the photo above is one of my favorite outfits. Nowadays I would choose jeggings instead of regular jeans, but it can be a nice way to keep warm on a cold day while still wearing a dress. I think the dress-with-jeans look can be super tricky to make work, but sometimes...
Plaid is one of my favorite casual tops to pair with jeans. This is definitely a more casual look, not dressy, but it's still a great way to style jeans if you're just going to school or going grocery shopping and don't care to look fancy at all. Creating layers adds interest, so you can layer a plaid shirt over a tee and then wear a jacket over that. Or roll up your jean cuffs and add a belt.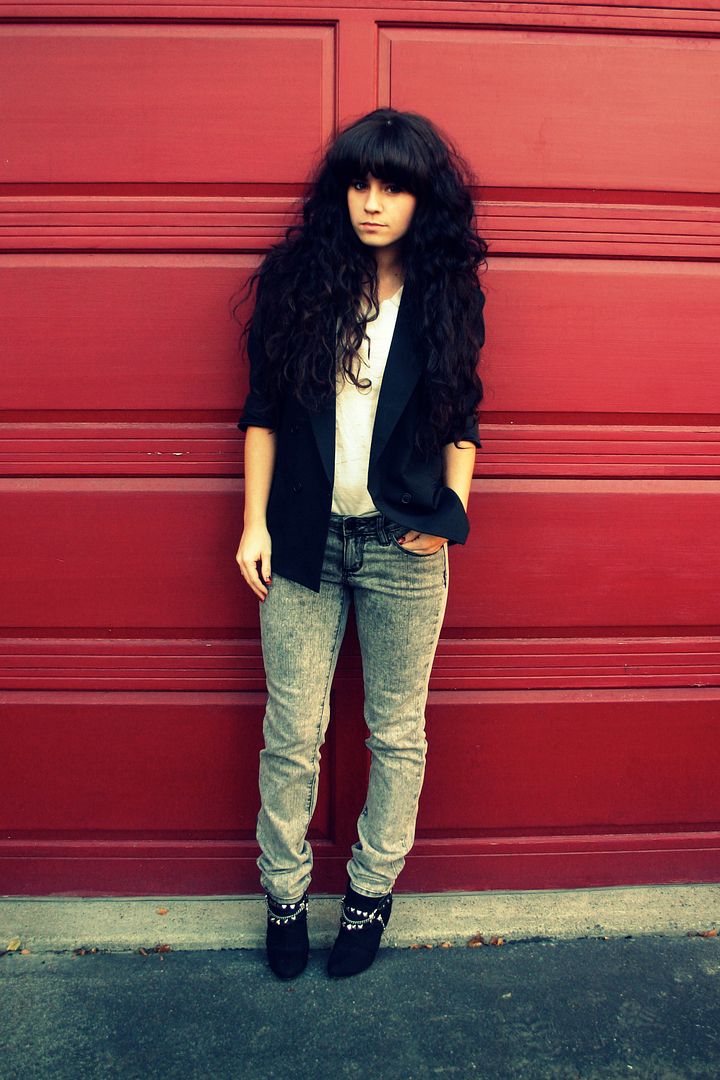 BLACK + GREY JEANS
This is a super old outfit, but I really like this look and it's also the only example I have of a wash like acid-wash. I really love pairing a blazer with a more casual top and jeans. I currently don't have any good blazers (I really want a neon blazer!), but I'd love to wear an outfit like this one again. I went super mono-chromatic with this one, just black and white and shade of grey, but I can imagine this with a bright pump and maybe a colorful statement necklace bringing just the right little element of color.
COLORED + PATTERNED JEANS
When it comes to colored or patterned jeans I tend to keep the other elements less crazy. Paring black and white is a pretty safe bet when you're styling with colored jeans. One fun thing to do is go on pinterest and search for something like "mint color palette" and it'll show you tons of color palettes of colors that pair well with mint. So if you're not sure what colors will go well with your colored jeans, try that! I personally am currently obsessed with mint and coral paired together.
FOOTWEAR
Footwear with jeans is really limitless. I wear pretty much all kinds of shoes with jeans. Statement heels, moccasins, boots, flats. But wearing a shoe with style of it's own will help your jeans not fall flat. Don't just wear your old sneakers. Find a pair of shoes that goes with the vibe of your outfit and compliments it. Have a go-to pair of shoes that goes with almost everything so, when in doubt, you can just go for those. Maybe a cute pair of black flats. With a couple repeats, I'm wearing a different pair of shoes in every photo in this post. I love how heels make jeans a bit more fancy, and then moccasins make them more casual. Boots tend to add a layering effect, which I like.